Our actions for a better environment
Outreach and recycling of cigarette butts.
Sÿnia asked the Éco-Mégot association to raise awareness, collect and recycle the cigarette butts of all our smoking employees.
The first step is to educate them about throwing cigarette butts in the right place and inform them about the environmental risks associated with bad behavior. A Research and Development unit has been opened to « create the first industrial recycling tool that cleans up 100% the cigarette butt. »
Find out more about Éco-Mégot.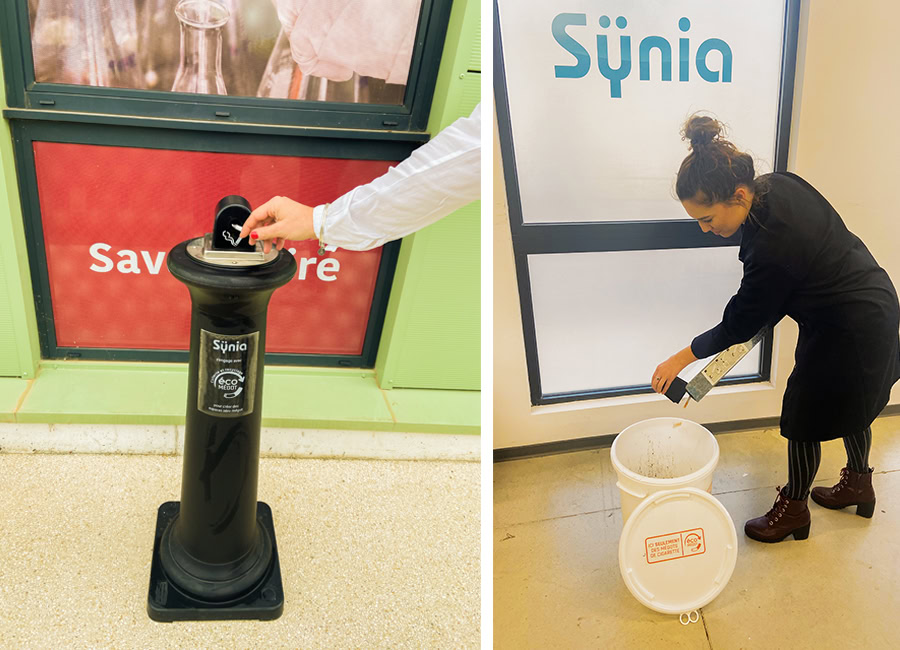 Paper and cardboard recycling with "Sud Recyclage".
At Sÿnia, the paper and cardboard we use meet two of the FSC (Forest Stewardship Council) standards:
The 100 FSC label, for products from well-managed forests.
The recycled FSC label, for products made from recycled materials.
We recycle all of our paper, cardboard and wood consumables with the company "Sud Recyclage". The paper and cardboard collected is then sorted, destroyed, then reinjected into the recycling industry to have a second life.
The company "Sud Recyclage" works with associations to give a second life to what can be reused. If the recovered material cannot be reused, the company proceeds to dismantle it, sort the parts that compose it and recycle the parts that can be reintroduced into the recycling channel.
Find out more about Sud Recyclage.