Your communication in high relief with Doming by Sÿnia.
The digital printing specialist and European leader in doming since 2005. Doming is process of applying a adhesive label in relief intended to transform your logos into eye-popping 3D objects!

KNOW-HOW
Know-how is the resin of our existence. With a solid experience in digital printing and resin deposition, Sÿnia works with a team of experts specialized in the production of labels and domings.

INNOVATION
Innovation is a concentrate of fresh new ideas and beyond. Thanks to its ability to innovate and its dynamism, Sÿnia offers groundbreaking and original products. Olfactory doming is a patented international innovation.

TRUST
Trust could be considered as a delicious fragrance with a pleasant and lasting smell. Committed to a Corporate Social Responsibility approach, we make sure to build lasting and ethical bonds with all of our stakeholders.
We call it doming, domed label, permavision or even 3D label. All these terms designate a single process. The process consists of depositing a transparent polyurethane resin on an adhesive backing. As it dries, the resin takes the look and feel of a dome. Thus, the label is transformed into a real 3D object.
Doming gives an exceptional shine and volume to your marking labels.

Doming is a technique that considerably accentuates the visual impact of your markings.

This technique provides real added value to your communication mediums.

The resin deposit protects your adhesive labels and any graphics from all kind of external pollution.

The domed label considerably magnifies the customer experience by attracting more attention to your product.

Doming is inspired by neuromarketing since it acts on several senses: sight, touch, and scent (optional).
The doming process can be applied on a wide range of materials and supports, adapts to all sectors of activity, and offers various techniques. At Sÿnia, we offer several types of Doming:
Traditional doming
Olfactory doming (patented innovation 2017)
Textile doming (new since 2018)
Magnetic doming
Doming on earthenware
Connected doming
Doming in color
Thermochromic doming
Phosphorescent doming
Transparent doming
Letter doming
Micro-Doming
Giant doming
The manufacturing process is done in 9 steps through the use of a complete integrated chain:
Prepress
Printing
The cut-out
Olfactory design (optional)
The resin deposit
Olfactory integration (optional)
Finishing check
Packaging
Shipping
The application of doming:
olfactory doming
The application of doming:
cosmetic doming
The application of doming:
automotive doming
9-step integrated production chain

PREPRESS
A team of operators take charge of your vector files or your 300 DPI images and ensures their conformity using an electronic proofread to make some technical checks to ensure that your file complies with all our production requirements and quality.

PRINTING
Our machine park is made up of HD digital printers which allow us to run orders of all sizes and to provide a very high quality.

THE CUT-OUT
Our digital cutting tools garantees you a wide choice of creativity and remarkable finesse of detail.

OLFACTORY DESIGN (OPTIONAL)
We can create the scent you want, using your concentrate, our fragrances or by calling upon our creative nose.

OLFACTORY INTEGRATION (OPTIONAL)
We integrate your scent into the resin. Once dry, it is protected from all sort of external aggression and lasts several months.

THE RESIN DEPOSIT
We deposit a transparent polyurethane resin on your adhesive carriers. Hard or flexible, our resins comply with the REACH and RHS II standards.

FINISHING CHECK
Our team is in charge of the selective sorting in which each Doming is meticulously controlled in order to deliver an exceptional end product.

PACKAGING
We offer you various packaging; individually, pallet, cases, in kits, in bags, etc.

SHIPPING
We work with several transport operators to meet your demands and urgent requests.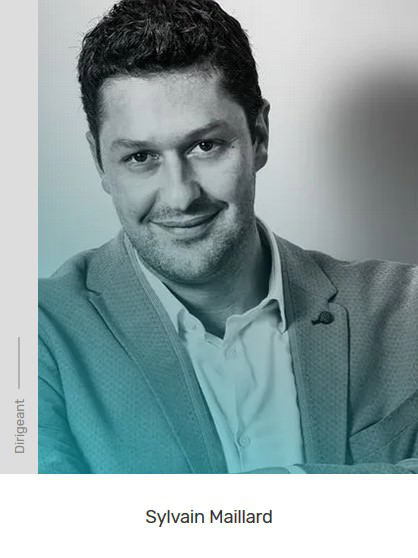 " At Sÿnia, we are attentive
to all your ideas."
« 
Never give up
 »
: that's my motto.
This expression perfectly underlines the daily occurence I established and that allowed me to become a manager nowerdays. A mindset that the team and I constantly pursue and maintain to enable each of us to achieve our professional goals. It is also a daily challenge that involves good relations between all stakeholders of the company.
These are daily actions that we want to share with our customers, partners, suppliers and service providers to sustain our future.
This future depends on the quality of our products and the speed of our services, the dynamic research and development strategy behind the scene, our personalized advice, the use of the best technologies, a more ethical and responsible approach every year, and last but not least, the know-how of our trained and specialized teams in this particular area.
I thank all of our loyal customers for their creativity and trust.
I thank all our partners for their professionalism.
I thank my whole team for their skills and efficiency.
m²(sqm) of
productive space