Company specializing in label printing and the manufacture of domings.
With its entire machine park, Sÿnia controls the production line from A to Z. We manage file processing, printing, cutting, resin deposition, quality service, packaging and shipping.
Sÿnia is a 100 French brand, part of the Wizzcom company which aims to highlight the know-how of its teams. This is how we bet on omnipresence in the manufacturing process, which guarantees us exemplary responsiveness and impeccable quality of the delivered products.
In order to support its growth, Sÿnia had its own Thermal Regulation 2012 building built in 2018 for a maximum optimization of its commercial and technical organization. The technological aspect of the building is as a signature while guaranteeing an operation that respects the challenges linked to sustainable development. True to its values, Sÿnia strives to strengthen its innovation and production capacities by targeting customer satisfaction and well-being at work for its employees.
The Sÿnia adventure is the assurance of working with a team with 15 years of experience in the printing and resin deposition sector. We put at your service, our expertise and our creative spirit to guarantee you a solution adapted to each of your simple or raised adhesive marking projects.
Founded in 2005, Sÿnia is today the European Leader in Doming.
From its creation, we decided, in collaboration with the Research and Development department, to invest in Domings production units (3D adhesive labels). Since then, our capacity for innovation has become the key point of our evolution strategy since we are developing various technologies associated with resin deposition. The objective is to offer you Domings of excellent quality, varied and with different uses.
Thanks to the professionalism of our teams and the quality of our products, Sÿnia has since 2009 become the undisputed leader in Doming from A to Z in Europe.
Meanwhile, and always with a focus on meeting the different needs of our customers, we have invested in digital printing. This modern technique currently allows us additional responsiveness and quality that meets everyone's needs. We can now produce small, medium, and larger series.
Concerned about your satisfaction, we have modernized the organization and management of production to be more efficient. Our machine park was renovated in 2018 with new high-tech industrial machines made to measure.
1 giant carousel: Kraken – largest tops found in Europe – 740 x 625mm with 24 tops.
1 machine with 1200 x 500mm top – 3 axes (x, y, z).
2 machines with both a top of 700 x 500mm – 3 axes (x, y, z).
1 giant oven 6 x 3 x 2m with 8 tops and total vacuum suction.
2 EPSON SURE COLOR S80600 – 10 colors – silver.
2 EPSON SURE COLOR S80600 – 10 colors – white.
Lamination is an adhesive marking for decoration and communication.
Lamination is a coating that protects adhesives from all types of aggression: cleaning products, UV rays, solvents, etc. and increases the thickness.
We offer 3 types of lamination:
Glossy or matt coating.
Grained film coating.
Anti-slip film coating.
The Summa S Class is the world's most advanced plotter. With its touch screen, it is also the most user-friendly. The built-in cutter allows you to automatically cut the sheet from the roll when the job is finished.
SUMMA S2 CLASS 160T; 158 cm wide cutting plotter
Aristo: External dimensions (LxWxH) mm: 2110 x 2580 x 1140 | Maximum working area (LxW) mm: 1300 x 1700 | Speed: 1400 mm / s | Acceleration: 1,1 G.
ZUND: Cutter S3 L-1600 | external dimensions (LxW) mm: 2340 × 3080 | Maximum working area: 1630 mm × 1800 mm | Weight: 610 kg.
FL trimmer, model 115 ELEO. Useful cutting width (mm): 1150mm.
POLAR trimmer, model 78 ES. Useful cutting width: 900mm.
We are committed to quality domes.
A rigorous approach and a unique experience serving demanding customers:
Team of experts;
State-of-the-art maintenance and management tools;
Quality of adhesive products and printing techniques adapted to customer needs / requests;
Control of material and required final cut shapes;
Validation of the choice and quality of resin before and after deposition;
Compliance with environmental standards;
100% made in France;
To discover more about our quality charter: click here.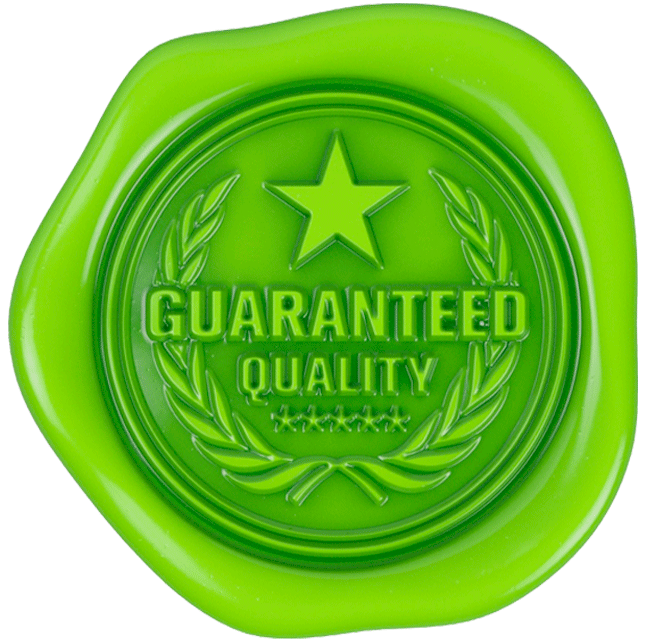 Your printer had built a building specifically dedicated for its Doming activity.
In 2018, Sÿnia invested in a new, latest generation low-carbon building.
Manufactured according to our activity, designed to reduce our energy consumption as much as possible and designed to promote the well-being of employees, our new workspace allows us to industrialize the manufacture of domings through quality work and detailed organization.
Located in Lavérune, 8 kilometers from Montpellier, between the sea and the mountains, Sÿnia has an ideal living environment allowing to work in natural light all year round. Located on the outskirts of the Montpellier metropolitan area, access to our factory avoids the most used highways and allows all employees easier commuting time that safeguards their productivity and health.
To improve well-being, to promote our organization, to perfect relations between each employee and to guarantee safety, our factory has a rest room and a furnished kitchen, an equipped meeting room, open space workrooms, a protected room for our clients' concentrates, an automatic defibrillator at the disposal of all.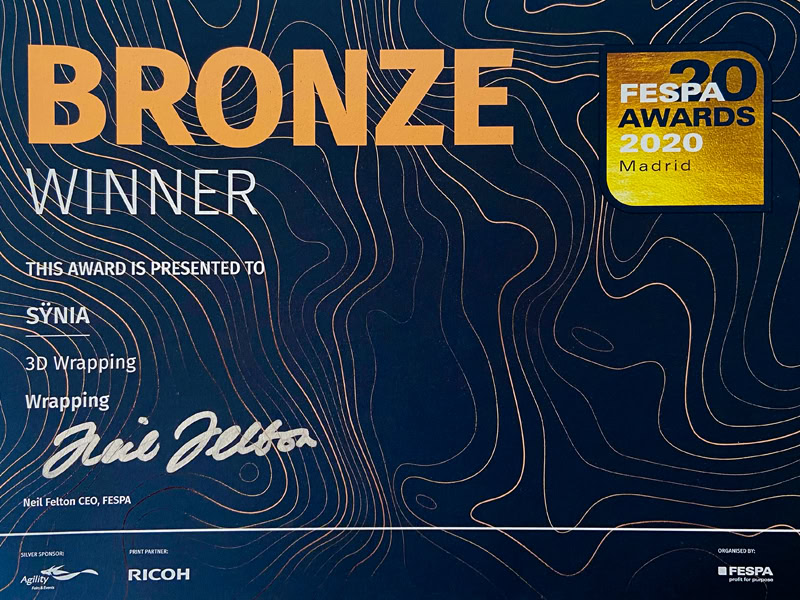 BRONZE WINNER
FESPA AWARDS – 2020
Sÿnia took part at the 29th edition of the Fespa Awards, an international contest to celebrate excellence in printing, which was exceptionally held behind closed doors this year. The winners were announced on the YouTube platform on Wednesday September 16th, 2020. The 3D Covering, an innovation made by Sÿnia, received the Bronze Award against competitors from all over the world.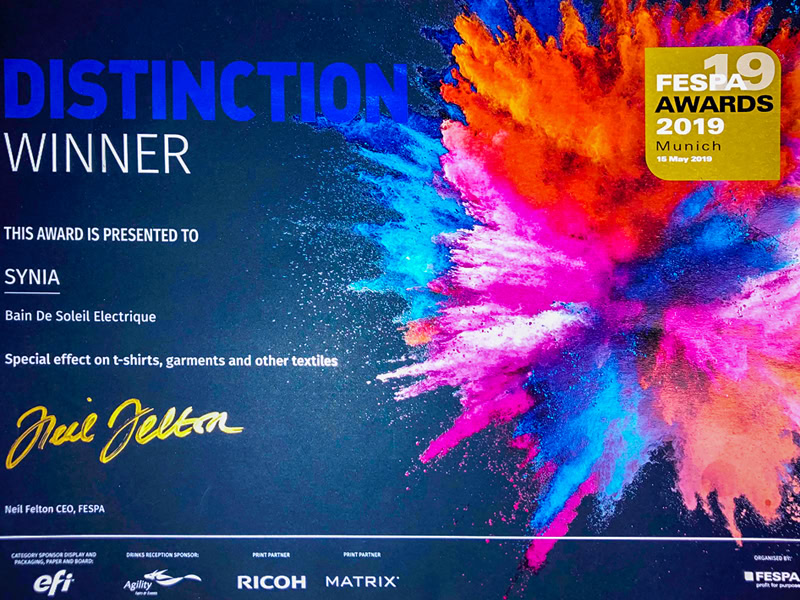 WINNER DISTINCTION
FESPA AWARDS – 2019
Sÿnia received a second Winner Distinction at the FESPA Awards which took place on Wednesday May 15th, 2019 in Munich during the FESPA Global Print Expo. This international contest rewards achievements in screen printing and / or digital printing in 14 different categories. Sÿnia competed in the "special effects on clothing" category with its "Electric Sunbathing" creation; a black triple organza skirt, decorated with textile doming and designed with the famous couturier and tailor Julien Fournié.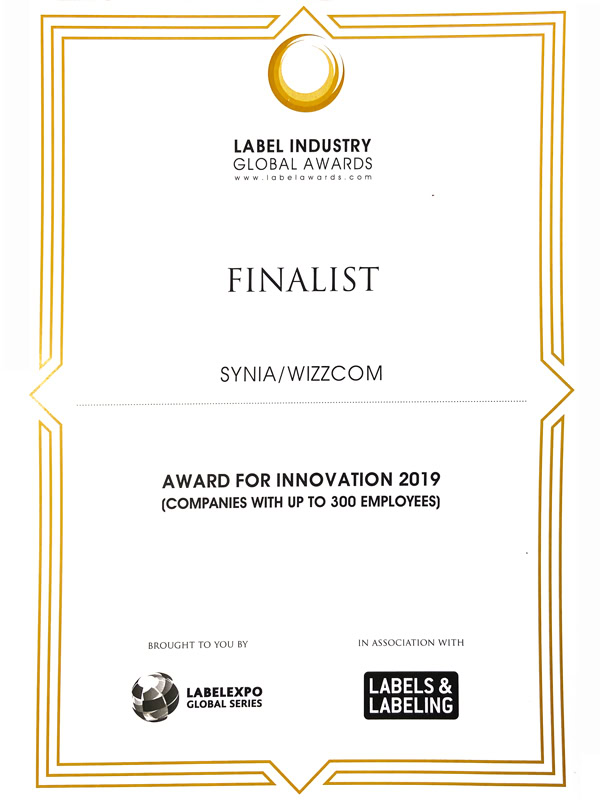 NOMINEE
Label Industry Global Awards – 2019
For its first participation as an exhibitor at the Label Expo international trade fair in Brussels, Sÿnia competed for the Label Industry Global Awards in the category "price for innovation". Sÿnia managed to differentiate itself from other exhibitors thanks to its innovative product, but also by being one of the five finalists.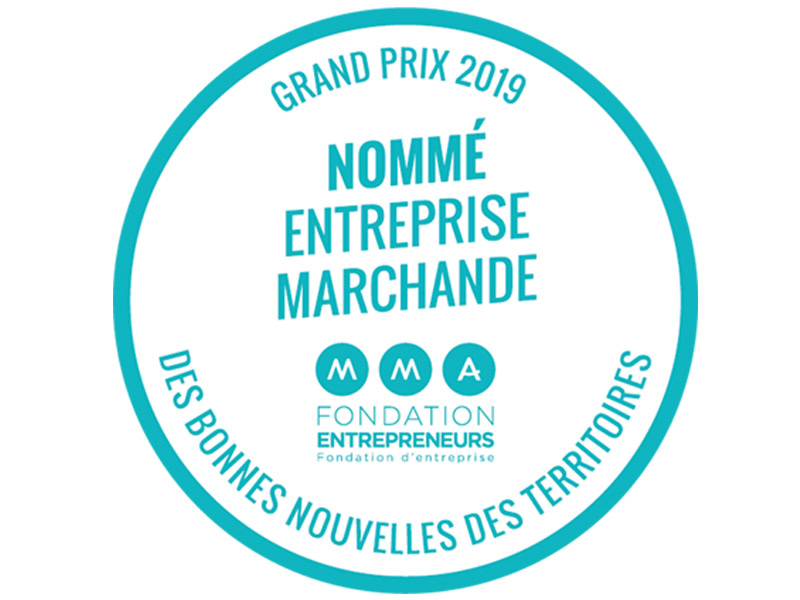 NOMINATION MERCHANT COMPANY
Grand Prize MMA – 2019
The "Grand Prix des Bonnes Nouvelles du Territoire" is a contest organized by the MMA Foundation for Entrepreneurs of the Future. Each year, this contest highlights local initiatives. Among the 84 applications received for the "merchant business" category in 2019, Sÿnia made it through to the second round, being among the 23 finalists.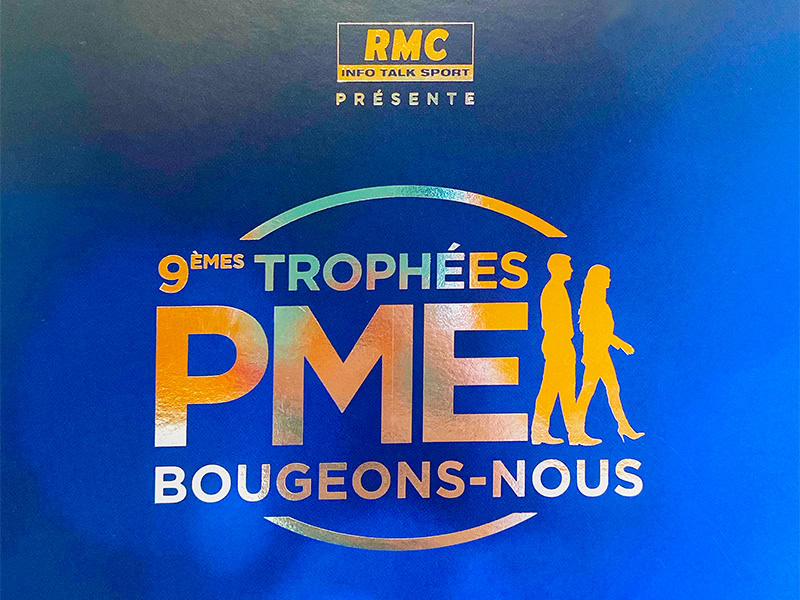 NOMINATION CREATIVE COMPANY
PME RMC Trophy – 2018
Sÿnia was nominated in the "creative company" category for its global innovation, olfactory doming, at the 9th edition of the PME RMC trophies.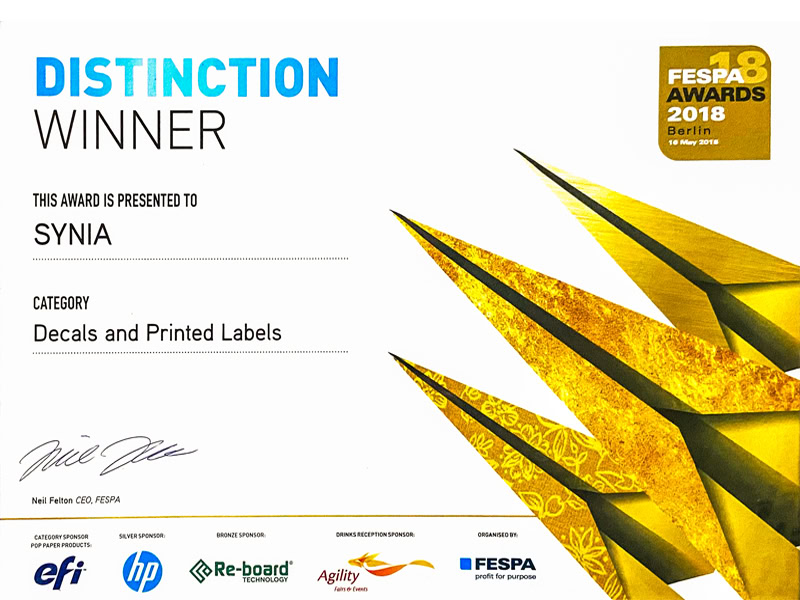 WINNER DISTINCTION
Fespa Awards – 2018
Sÿnia received a Winner Distinction at the FESPA Awards which took place on Wednesday May 16th, 2018 in Berlin during the FESPA Global Print Expo. This international competition rewards achievements in screen printing and / or digital printing in 14 different categories. Sÿnia competed in the "decals and printed labels" category with her creation "Boss Bottled"; a giant olfactory doming for the Hugo Boss brand, developed with Coty, as part of the promotion of the new fragrance.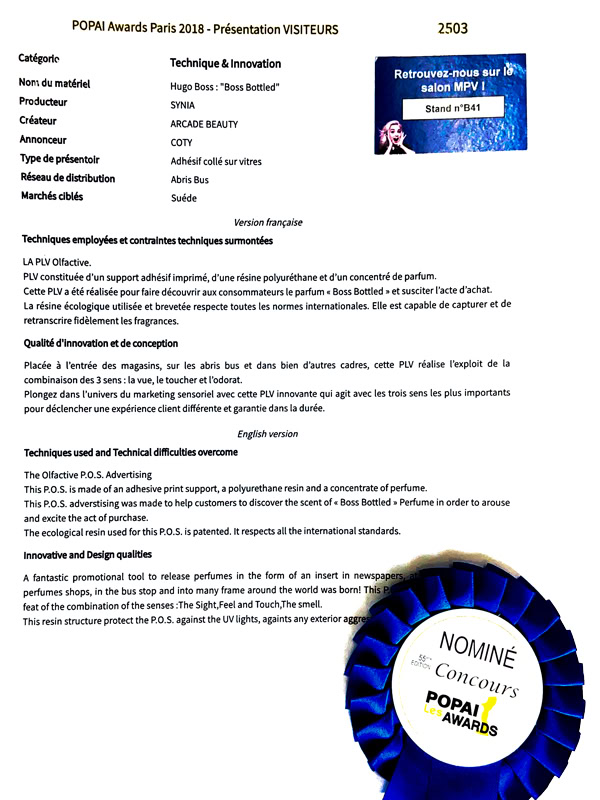 BRONZE TROPHY
POPAÏ Awards – 2018
The 55th edition of the POPAI Awards 2018 contest took place in Paris. This unmissable event for point-of-sale marketing professionals rewards the "best achievements in POS, Digital, Layout and Merchandising". Sÿnia won a bronze trophy for her creation developed with Coty (a multinational that manufactures cosmetics), the giant olfactory doming "Boss".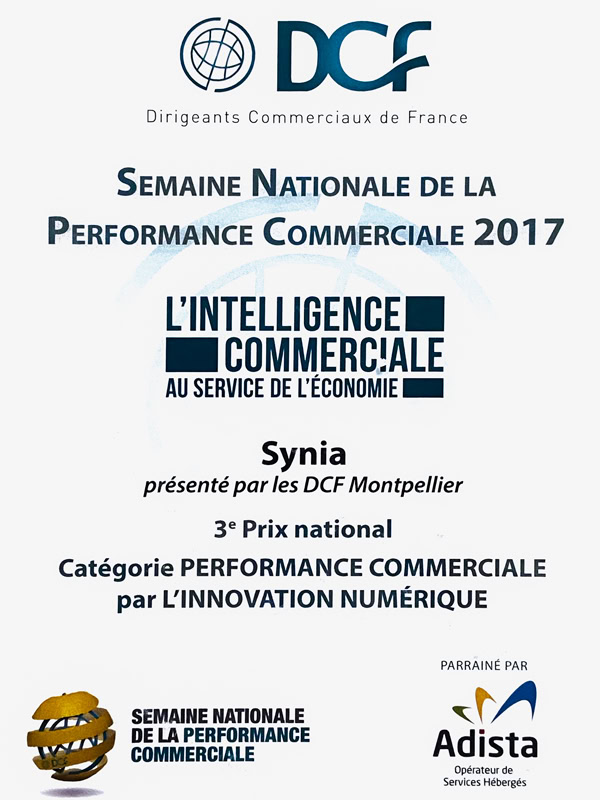 3rd AWARD OF NATIONAL COMMERCIAL PERFORMANCE
DCF – 2017
From June 12th to 16th 2017, the 10th edition of the National Sales Performance Week was held on the theme of Sales Intelligence. This event aims to highlight the commercial successes of local businesses. As a result, Sÿnia managed to qualify in third place in the "digital innovation" category.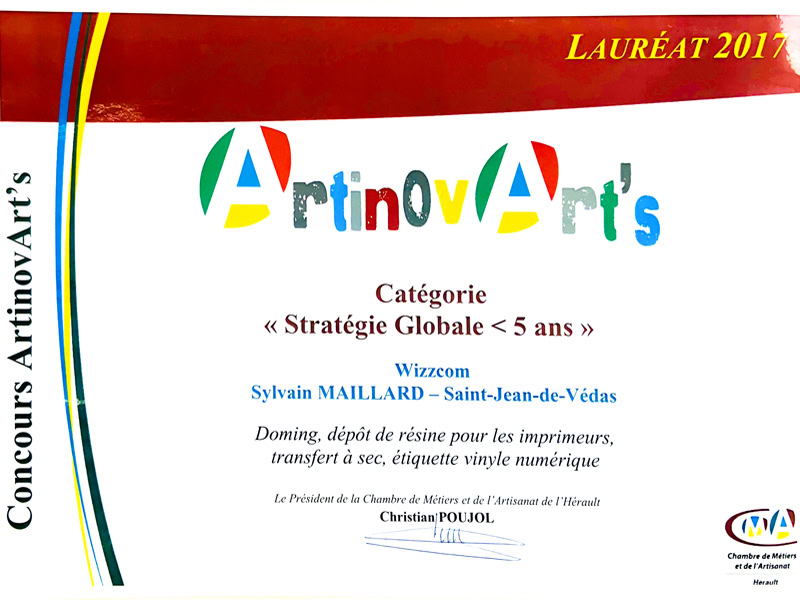 TROPHY OF THE "GLOBAL STRATEGY OF LESS THAN 5 YEARS"
ArtinovArt's – 2017
On Thursday, June 8, 2017, the Craft Innovation Day took place, for which companies were rewarded for their economic and commercial performance, but also for their commitment to sustainable development and their innovative approach. Sÿnia won the trophy for having put in place a global strategy.
Fespa Awards
Septembre 2020
Hérault Juridique
Septembre 2020
Graphiline
Septembre 2020
Fespa Awards Madrid
Septembre 2020
Entreprendre Montpellier
Juin 2020
Travail & sécurité
Mars 2020
SignPro Europe
Avril 2019
Signal'Etiq
Septembre 2018
France Graphique 360
Août-Septembre 2018
FESPA France
Septembre 2018
Midi Libre
12 Juillet 2018
France Graphique
19 Mars 2018
Nouvel économiste
Janvier 2018
IC LE MAG #5
Décembre 2017
IC LE MAG #4
Octobre 2017
IC LE MAG #4
Octobre 2017
France Graphique
Août/Septembre 2017
Journal Signal Etiq
Février 2017
Salon C! Print
Février 2017
Journal Entreprendre
2017
IC LE MAG #1
Janvier 2017